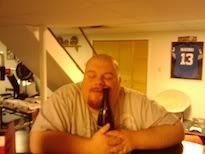 Ok, so we decided that 8 different types of beer would be opened tonight, but that didn't work out so well. After the first six (Iron Hill RIS, 08 Founders Breakfast Stout, 07 WWS, Storm King, and two more) we still had four to go.
Last four were Flying Fish Exit 1, 2008 Rogue Imperial Stout in the ceramic bottle, 2008 Abyss, and 2006 3 Floyds Dark Lord.
Once the Dark Lord was gone, we decided to open some Dog Fish stuff that most haven't had enough of. So a bottle of Wrath of Pecant and 2008 Theobroma were opened.
Then there was something about a cow and West Side Story.
More to come tomorrow, possibly with a new logo. I kind of remember it all, but here's the picture I had on my phone. More pictures to come tomorrow...